Search our online catalogue
Explore Your Archive
Explore Your Archive is a joint campaign delivered by The National Archives and the Archives and Records Association across the UK and Ireland. This year's dates have been announced as 18th – 26th November!
Find out more
On this day...
19 November 1892
Huw Thomas Edwards, trade union leader, politician and poet, was born at Ro-wen in Caernarvonshire. He was the first President of the Welsh Language Society
Latest tweets:
2 days ago
Ready! Explore Your Archive 2017 launch #explorearchives #archiveswales https://t.co/GmVZakAJDl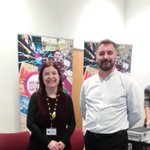 Volunteering
Whether you have a passion for history, want to improve your knowledge and skills, or simply want to get involved in something worthwhile, volunteering at your local archive service can be a great experience!
Find out more
Archives are for everyone
Using archives is a great experience – each item is precious and unique, a direct connection with the past.
How to use Archives